SUP – Or Stand Up Paddle is now a new trend to anyone who loves ocean adventure, and there is no better way to experience your SUP holiday in a unique holiday adventure on a yacht in the Maldives.
Below are some tips on how to enjoy your SUP experience.
Advantage of doing SUP on the yacht.
Choosing a location – SUP holiday onboard a yacht is much easier, the boat will bring you to a different location in Maldives which is ideal or even enhance your SUP skills.
Learn SUP with Guides -different location requires a different style with the help of SUP guides on board you can learn different techniques and strategies.
Enjoy the view of traveling to different locations in the Maldives you can see how wonderful the country is.
Surf – Surf SUP board is short in size, with a narrow nose this design makes it easier to maneuver. However, it tends you to paddle slower and it is not ideal for calm water.
All-round – This SUP board is perfect for a beginner it's wider and longer will able you to glide into flat water and ocean waves give you a straighter track in calm water. This board is also commonly used in any other SUP activities such as SUP surfing, SUP Yoga, SUP fishing, SUP Touring.
Flatwater – Longer than
All-around SUP board, this board is design for Open Ocean paddling, it's pointed the design makes gliding through waves easily and smoothly.
Race SUP boards – Because of its narrow design, this board increases the board speed which makes it more challenging and often used for people who love paddling faster.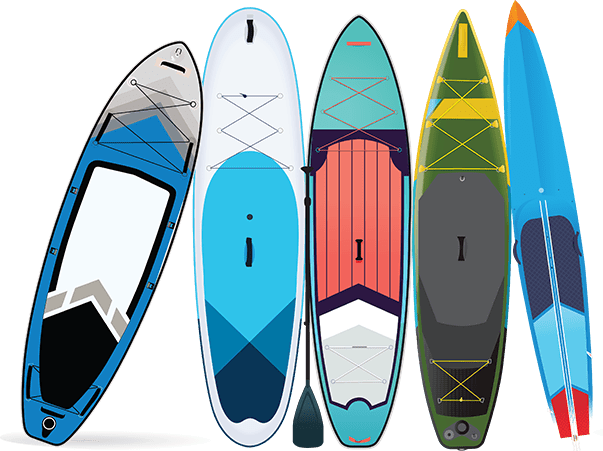 Image from: supboardguide
Kinds of SUP activities you can enjoy onboard 
SUP Yoga – Improve your yoga pose and skills with SUP Yoga this activity requires more focus and balance to keep you and your board steady when shifting between yoga poses in calm water.
SUP Touring – This is a great leisure activity which is perfect here in the Maldives, in shallow and calm crystal blue water enjoy the paradise view. Some tourists can see green turtles and other aquatic marine life while paddling.
SUP Fishing – This type of activity is ideal for active fishing experience with the abundance of pelagic fish in the Maldives SUP fishing will enhance your fishing experience.
SUP Surfing – Stand up paddleboard surfing is similar to traditional surfing the difference is using the paddle catching and surfing waves is much easier. What makes it more challenging is, it requires paddling skills for trimming, steering, and turning.
Experience your SUP holiday destination with your family and friends on a yacht with Adventure Maldives. Our luxury yacht will take you to different ideal SUP spots in the Maldives, and make it more enjoyable by combining this trip with snorkeling and beach activities on an uninhabited island. Visit our website www.adventuremaldives.com or email us at info@adventuremaldives.com